Straw Bale Architecture for a sustainable future
Strawbale architecture and construction is a method of building that uses rows of stacked bales encased in reinforced plaster. The resulting lightweight, durable and strong wall can function as a standalone structural element or as a highly efficient insulating barrier. Strawbale construction is a truly American technology--dating back to the hay baling machinery of Midwest farmers in the early 20th century! Today, strawbale construction is used to build many types of structures that vary in style from traditional to modern...not only buildings such as houses, police stations and schools but also sculptural art and landscape pieces.
Not only an environmentally responsible way to build, strawbale construction is versatile and highly attractive, too. Designs can take a variety of straight or organic forms and can be combined and detailed with many other finishes and materials such as stains, concrete, and tilework. It helps build a sense of place.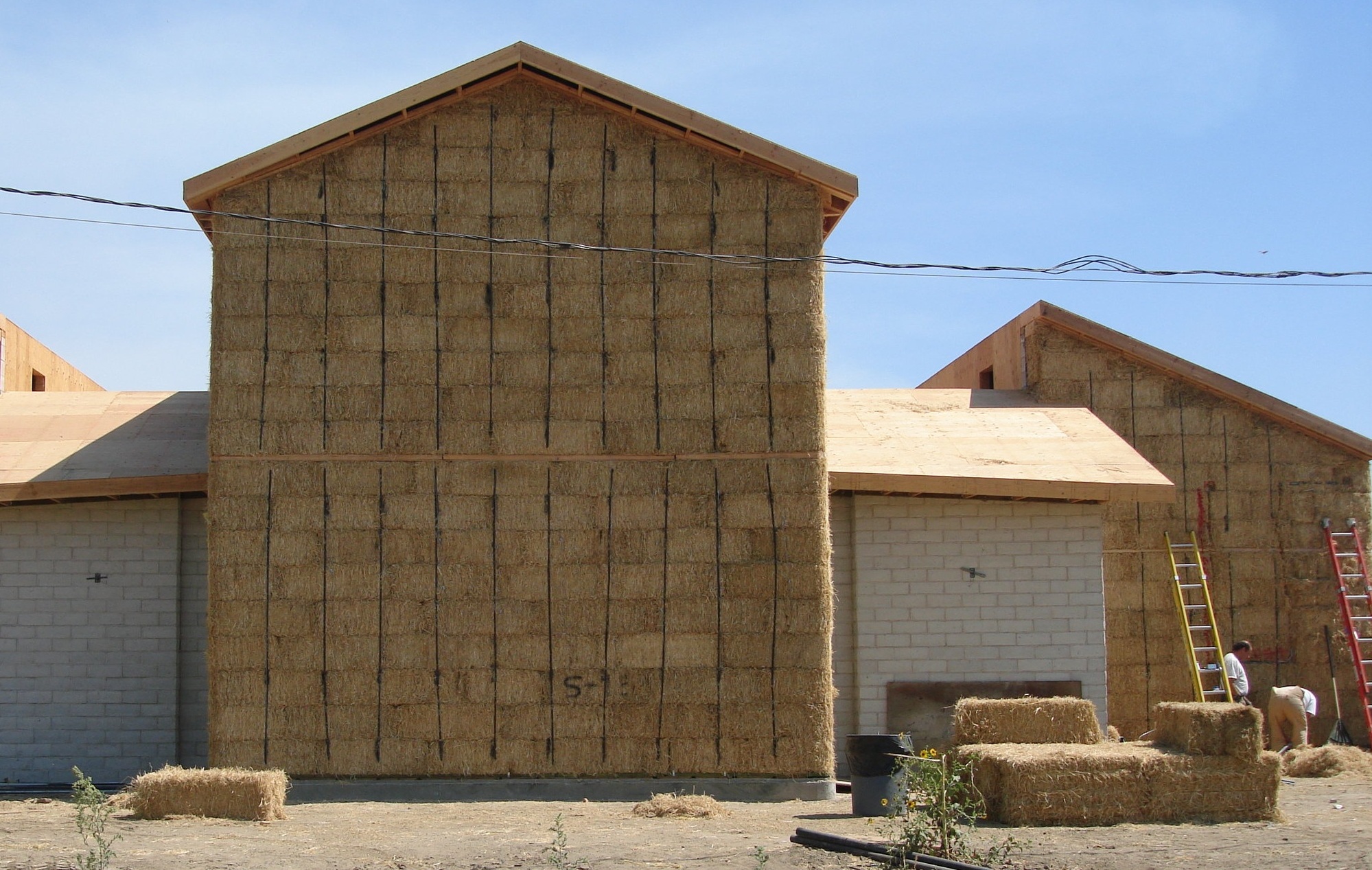 DURABLE, QUIET & FIRE-RESISTANT
Straw Bale walls are strong, durable, and highly fire-resistant. They effectively shut-out environmental noise produced by traffic, freeways and other sources, resulting in quieter spaces in which to live and work. They have an equivalent Sound Transmission Rating (STC) of >50.
Straw Bale Buildings have thick, plaster-finished straw bale walls are consistent with Mediterranean style buildings found up and down the Central Valley, history of the area, can be reminiscent of traditional "adobe" construction, or can be expressive of a range of other styles from the "organic" to the "ultra-modern".
Straw Bale Architecture with highly energy-efficient straw bale walls provide an equivalent thermal resistance of R-40, more than twice the thermal insulation of standard construction and result in substantially lower heating and air conditioning bills. This, together with proper orientation of windows, a super-insulated and reflective "cool roof", and a night air ventilation system result in utility bills which can be 50% less than conventional construction. The additional building mass provided by straw bale serves as a "thermal flywheel", helping to reduce indoor temperature variation, improving the thermal comfort of occupants.
Rice straw is a locally available renewable product that when used in buildings contributes to regional air quality goals by reducing the need for open-field burning. It is one of the few building material s native to the Central Valley. At present over one million tons of straw are generated in California yearly, with only 5% taken off-field for productive uses like construction. Using rice straw in public construction also reduces the need for importing manufactured building materials and demonstrates our Client's resolve to build in a responsible and sustainable manner, while also contributing to the viability of regional farming communities. The material is LEED certifiable by the United States Green Building Council and is an important tool in carbon-reduction measures.